By Kate Copstick
It is a wonderful thing to sit in the dark and let really good writing delight you.  This is not just good, it is writing of such skill and precision that it could have been done with a diamond cutter.  There is not one single wasted word, not one phrase that does not play perfectly - and sometimes painfully - its part in this extraordinary story of love and life, fear and finding yourself.
Even with the staging, the simplistic illustrations used to deflect the emotions of the situations they portray just enough to prick but not stab your feelings.
There is no actual imperative to be lesbian (or even lesbian-ish) to be enthralled, although it helps.  Fiona Goodwin - for the Very British Lesbian, 'tis she - takes us, by the heart, through a childhood and teenage so mired in guilt and confusion that she became a Born Again Christian and ended up being exorcised by a gangster pastor and a woman with elephantitis.  Years of denial (and therapy) let to decades in the closet (and therapy), interspersed with a series of doomed love affairs with variously unavailable women.
And one non-love affair with a too-available man.  Goodwin perfectly matches the writing with an exquisitely nuance, pared-back performance.
It is, as mentioned in the title, all Very British.  But her lesbian heart in hiding left her endlessly running away, across the world - to Italy and Honduras, London and LA - trying to avoid Mz Right and consequently meeting several Mz Wonderful But Ultimately Wrong.  There is so much laughter in Goodwin's hour that it is a tribute to her as both writer and performer that it does not for one second diminish the hurt that is felt, it simply refuses to let things get either angry or maudlin.
Which makes this a memorably powerful hour.  And very British.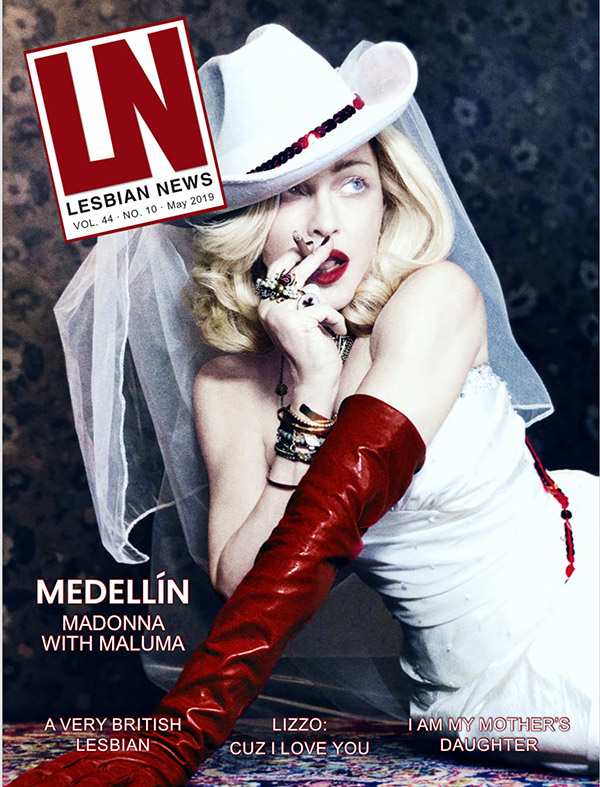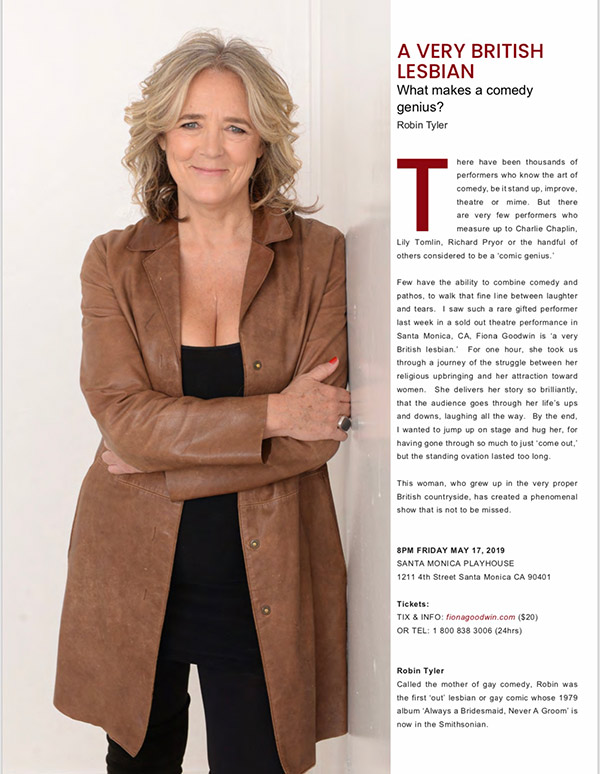 What makes a comedy genius? There have been thousands of performers who know the art of comedy, be it stand up, improve, theatre or mime.
But there are very few performers who measure up to Charlie Chaplin, Lily Tomlin, Richard Pryor or the handful of others considered to be a 'comic genius.'
Few have the ability to combine comedy and pathos, to walk that fine line between laughter and tears. I saw such a rare gifted performer last week in a sold out theatre performance in Santa Monica, CA. Fiona Goodwin is 'A Very British Lesbian.' For one hour, she took us through a journey of the struggle between her religious upbringing and her attraction to women. She delivers her story so brilliantly, that the audience goes through her life's ups and downs, laughing all the way. By the end, I wanted to jump up on stage and hug her, for having gone through so much to just 'come out,'but the standing ovation lasted too long.
This woman, who grew up in the very proper British countryside, has created a phenomenal show that is not to be missed.
~ Robin Tyler,
Robin Tyler was the first 'out' lesbian or gay comic whose 1979 album "Always a Bridesmaid, Never A Groom'" is now in the Smithsonian.